Have you heard about
Educents
? If you haven't, you're missing out, my friends. It's basically Groupon for teachers. Educents offers all types of educational materials, bundles, games, and fun teacher-type stuff that all of us teachers love to get our hands on. I am SO EXCITED to announce the latest offering from Educents!! It's a HUGE bundle of over 1,000 fonts, graphics, and digital papers. I seriously cannot believe that I am a part of such an AMAZING offer. If you use clip art at all, then you should definitely check this out. There are TONS of talented artists participating in this and the package includes QUALITY designs that you can use to snazz up those products and classroom materials. Educents has taken products from 19 different artists and bundled them into one big, giant offer for one little, teeny tiny price. Excellent!
This BIG OLE' bundled offer includes fonts, clipart elements, and background papers from 19 different artists, including myself. I decided to offer my Carnival Pack in this Educents bundle offer. I loved, loved, loved creating it and I am very happy, happy, happy with the way that it turned out. My portion of the offer includes everything you see here, plus 30 cute little banners that match the theme.
There are a total of 1137 graphics, fonts, or papers included in this bundled offer. WHAT!? I know, it's nuts. And I am jumping for joy over here. I can't contain my excitement about this offer!!! Weeeeeeee!!!! Want the offer? Go
here
!
Wanna see the rest of the goodies that are in this fun little bundle of joy? HOP ALONG!! Click the button below to visit Nikki over at Melonheadz Illustrations to see what cuteness she's included for this bundle.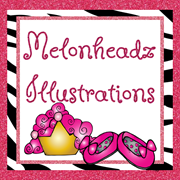 Wanna Pin It to Win It? Just 'cause I'm so daggone excited about this, I will be giving away any clipart item from my TpT store. Pin any image from this post and enter below to win!

a Rafflecopter giveaway
Please check out this bundle on Educents. It'll be available for 12 days and 12 days only. So, don't miss out!!